---
Swapping an AMC 360 V-8 and TF727 automatic for a 258 6 cyl and 4spd manual.
Also check out the Flatlander's Article, it's basically the same thing rewritten for my Jeep Club.
---
The top part of this page deals with the driveshaft interference with the transmission oil pan as a result of my decision to swap in a 727 auto. The second half is the swap itself, complete with part numbers needed.
OK. The two problems I've had are driveshaft interference and I melted two shifter cables. The first was pretty much solved with 5" lift (4" spring, 1" shackle). The second problem is addressed further down the page.
To illustrate the shaft contact problem, I "ramped" it twice, first time with one 6x6 (below), second time with two 6x6's (these pics are below the first ramping) (note: I did this prior to the MORE Shackle Reversal/buggy spring install, which helped a little. I could fix this with a taller bumpstop or cutting a corner out of the tranny pan. I will most likely change the powertrain anyway, but I'll leave this page up for others to reference.)
---


not quite fully articulated. This may have to do for now. 2" between the 33" BFG top and the bottom of the fender flare.

the stripe is from the pre-lift interference, as is the dent in the pan (ouch!) that explains the leak :(
---
Second ramp:
Here are a couple pics to give you an idea how twisted it was

front driveshaft compression

it's closer, but not hitting yet.

---
The cable problem was solved by using a 4' cable, header wrap (good news for the proportioning valve too, boiling off your brake fluid is bad) and a small heat shield.

---
Post '80 AMC 360 from Wagoneer,Cherokee or J-Truck (a.k.a. Full Size Jeep - FSJ)
Post '80 TF727 Automatic from same (If you use a pre'80 FSJ, you get a 360, TH400 with special AMC bolt patterned case, and the transfer will fit too - the post '80s are left side diff on the front.)(Also note: if the post'80 wag has a factory Jeep Class III hitch on the back, it has the towing package, and therefore 3.73:1 diff gears and a non-lockup torque converter/valve body. Further discussion available upon request :)
Transmission's gear ratios: 1st 2.45 2nd 1.45 3rd 1.00

OK, I've had discussions which cast doubt on the TH400 applicability. that would be too easy, right? <grin>

NOTE: If you use the pre-80 TH400, the pan is smaller, you may not have the problems I have with the front driveshaft hitting the tranny pan.
Crossmember support from above FSJ
Electronic Control Unit "Brain" for above engine (or aftermarket equivalent)
Low Stall (advertised 1100 RPM) Torque Converter from O'Reilly's Auto Parts (less heat, better engine braking, less torque "off the line" 'cuz the engine can't spin up as much before the trans takes off, but better for me so I can idle over rocks without using all 4 barrels. As long as the engine's cam-ed up right, you'll be fine) $80
Left and Right side engine mounts from '79 CJ-7 with 304 V8 and automatic, both on frame side and engine side. Total cost from dealer: $130 Part numbers are as follows:
left side engine side mount - J999147
right side engine side mount - J999148
Right side frame side engine mount - J5355948 - It turns out, it's the same as the 6cyl's you just have to drill new holes for the resilient mounts.
Should replace (not-so-)resilient engine mounts (rubber things) while you're at it, they're cheap and hard to get to later. Cost: $20
Upper radiator hose for above CJ-7 (original 6cyl fits for lower) $10
Radiator for the above CJ-7 $190 O'Reilly's - tell them "'79 CJ-7 with 304, automatic and A/C" that gets you the heavy duty with built in tranny cooler.
Floor shifter - I used a B&M Truck Megashifter. Not the greatest for rock crawling, but better than swapping in a different steering column! $145 Summit Racing - others like to use an Art Carr. I might switch someday.

Fabricate:
cooler lines for transmission
rear support member between transmission and crossmember (turns out, a combination of the CJ and Wagoneer's works about right.
dual exhaust system $140 - done. sounds reeeely nice :)
Problems:
Front driveshaft hits transmission pan.
Proposed solutions:
4" suspension lift or
scrap the 727 for a manual tranny or
modify the 727 pan to clear the shaft or
get pre-80 wag/cherokee TH400 auto (smaller pan)
Temp gauge seems to be incompatible, more troubleshooting required
either that or it's running so rich that it doesn't get hot :O
Turns out that the thermostatic-fan clutch was stuck. Pulled the fan completely off, and the radiator still keeps the needle under the green in 20 minutes of city driving at 50 deg. F. That's a nice radiator :)
---
These are pictures of my '82 CJ-8.



I've recently dropped in the '81 Wagoneer 360 V-8 with Edelbrock Performer cam, manifold, valve springs, carb, Holley electric fuel pump;

6 cyl ready to come out... no turning back now!



My cat, Ginny, says "I've double checked everything, it's ready to come out!"



Gee, there seems to be something missing ....



Here it is! Ready to go. It still doesn't look like it's gonna fit... you can see the yellow 727Special in the background with the fan blade tips painted the same color.



I'll be darned, it did fit!



couldn't help it, had to take it for a drive! Yeah!



B&M Truck MegaShifter. Only difference between the Truck and regular is the little stand it's sitting on.


Below is the '81 Wag's Torqueflight 727 3-spd auto (w/ lockup torque converter) which I rebuilt with a TCI Streetfighter Super rebuild/shift kit. It's cool! btw, I painted it Yellow!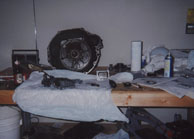 The Scrambler was originally fitted with a 5 speed, which a previous owner blew up. I got it in a bucket!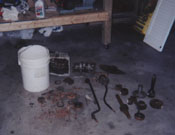 The previous owner put on the paint, and the stainless steel front bumper. You may have noticed the 3 (three) shifters below. My custom Dana300 split shifter thing. Didn't have $130 to buy one. It works pretty good. OK, I finally caved in and bought one from Currie - don't know how I 'wheeled without it! If you don't know what it does, the Dana 300 has two shifting rods that stick out the front. One runs the front prop shaft, the other runs the rear. You can hook each to their own shifter, and run in 2-Low. Why? Well, if you're rock crawling (love it!) and have to turn sharp, your choices are to bang the tranny into 2 High and slip the clutch, leave it where it in 4Low and hope you don't break something, or have one of these and flip the front drive line into Neutral for the turn. Oh, I suppose you could get out and turn one of your hubs to 2, but the guy halfway up the hill behind you might get a bit tired of it!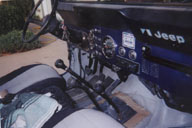 Not affiliated with American Motors Corporation, Jeep® or Daimler-Chrysler. ©1999 OffRoad Vehicle Outfitters