Suspension Page
This page will list all suspension-related information that I either learn or acquire. I'll separate it into categories for easy reading. Email me with any questions or comments.
---
Axles
Dana 30 Front: stock other than 4.56 gears, Superwinch hubs, u-bolt skid plates
AMC 20 Rear: 4.56 gears, J-10 axle tube with CJ ends welded on, disc brakes, Warn Full Floater kit, Ected electric locker, Rugged Ridge diff cover
---
Springs, Front: YJ Big Dick Suspension 5" YJ lift springs, Warrior U-bolt skid plates; MORE Shackle Reversal w/ buggy spring, with traps welded to keep the buggies from sloshing sideways on the street.
While installing the YJ front springs, had a little trouble: the pass side shock mount on the axle was too close to the spring centerline, couldn't get the u-bolt down. Had to cut the shock mount off and reweld it more outboard on the axle. I also have to move the SRS springs back to fix the shackle angle due to the longer YJ springs ... that and that they were hand-me-downs that I'm sure weren't in pristine condition LOL.

I induced another problem along the way: the new BDS 5" lift front springs flatten out while braking, probably due to the caster angle being off, which in turn causes the shackle reversal to invert the shackles. Not good. Fortunately I was close to home, but still ended up bending the buggy springs permanently. So I'm thinking about sliders in their place. Maybe later and on another page. I adjusted the SRS kit to different holes (6 combinations possible), and found one that seems to work for now. Sliders definitely in the "soon" category.
Springs, Rear: YJ 5" BDS lift springs, self-made U-bolt flip kit with skid plate on the bottom; Tera-flex revolver shackles. Still on the shelf are Z-boxes for the front hangers so I don't destroy my frame again. I had a problem with these springs losing 2" of lift after two short wheeling trips. So I put in a 2" add-a-leaf from 4WD.com, issues solved (so far). Note also that the MORE axle perches were only touching the spring at the ends, so it's possible that when I torqued down the u-bolts I squished the spring and made them flatten out ... so when I put in the add-a-leafs I shortened the normally 7" long perches by 1/2" each end, which helped bring the spring more in contact with the perch front to back.

---
Steering: Flaming river spring-loaded steering shaft; Grant steering wheel with Jeep horn button; Wagoneer variable ratio steering box; MORE steering box brace; Poison Spyder tie rods
---
Shocks
1ea Bilstein 5150 shock in each corner. Should have waited on buying these until after I put my rear axle in, as I could have moved the shock mount up higher on the tube. Didn't want to throw away/sell brand new shocks. It's all good, the shocks still aren't the lowest hanging fruit on the Jeep.
---
Brakes, System: New CJ booster; '82 Corvette master cylinder from Napa (the Autozone ones were CRAP), Corvette proportioning valve off of ebay, took a chance, hoping I didn't buy junk. Hey, it's shiny, right? Stainless steel brake line kit with the exception of the two feeding the prop valve, had to change the fittings to fit the new valve, couldn't re-flare the SS ones. Had those two lines built by www.inlinetube.com - great guys, they know their stuff. Another Jeeper told me that a Ford F-250 master cylinder will bolt up too. Might try that one someday.
Brakes, Front: New CJ calipers from Autozone, one of which didn't seal at the copper fitting, first time that's ever happened to me. See above. I'm thinking their brakes suck. NAPA's across town but at least their stuff doesn't puke on my driveway. Ended up having to sand the plating off the mating surface, all good now.
Brakes, Rear: disc brakes with parking brake provision that activates the piston rather than a mini-drum setup. Believe they are Cadillac style, specifically '82 Buick Riviera. Looking at the max width that these calipers are supposed to be able to get in their mouth, these rotors barely fit in there. I cut the shims off the pads and all is well. Need to start looking for better rotors. I think '94 Ford F-150 has about the right dimensions. These brakes are kept in adjustment by constant use of the emergency brake, thus hastening the e-brake system below. I must say after I got the ebrakes working the Jeep seems to be stopping better now. Must be something to that adjustment thing after all! LOL
Emergency brake: two TJ e-brake levers, one for each rear wheel but mounted close enough together that I can grab both at once in a panic. I got a universal kit from Summit, the LOKAR GM kit LOK-EC8004U, works just fine. I used one of the TJ cable joining brackets as a base for the new system. The length worked out almost perfectly. Here are the pictures. The only lesson learned here was that when you shorten the Lokar cable, their set screw setup won't hold the cable in anymore. Remedy this by placing the end of the cable upright in a vise, then TAP it with a MIG welder. More that a quick ZAP will melt your cable away. Two little shots and you should have a nice ball on the end of the cable. Dress it up with the grinder and you're G2G.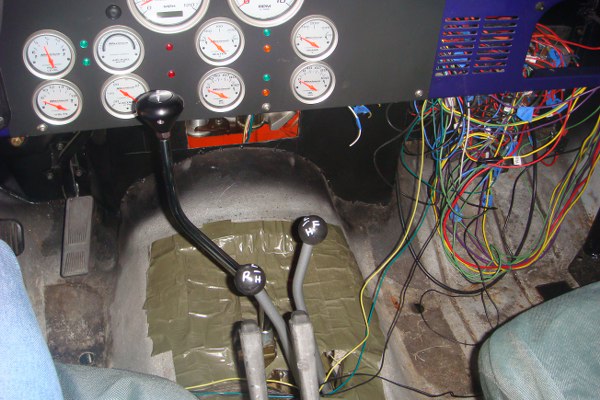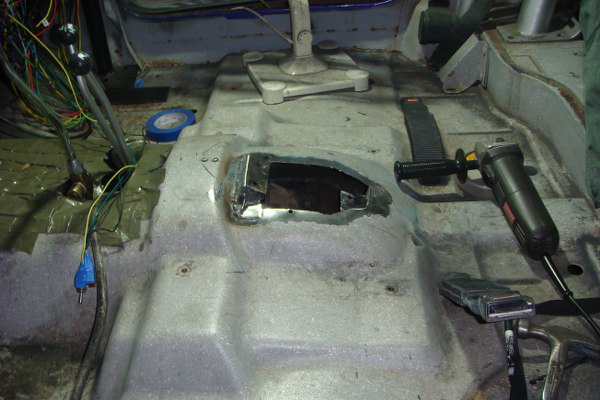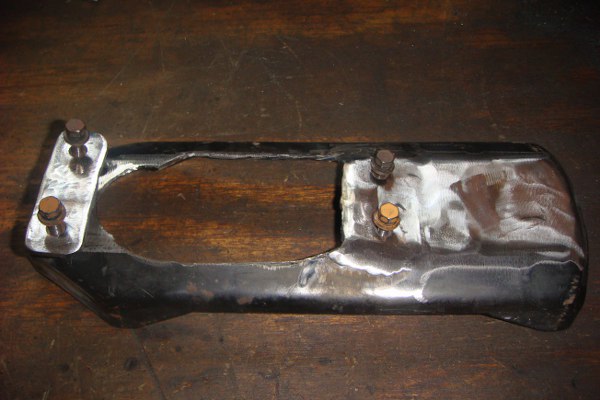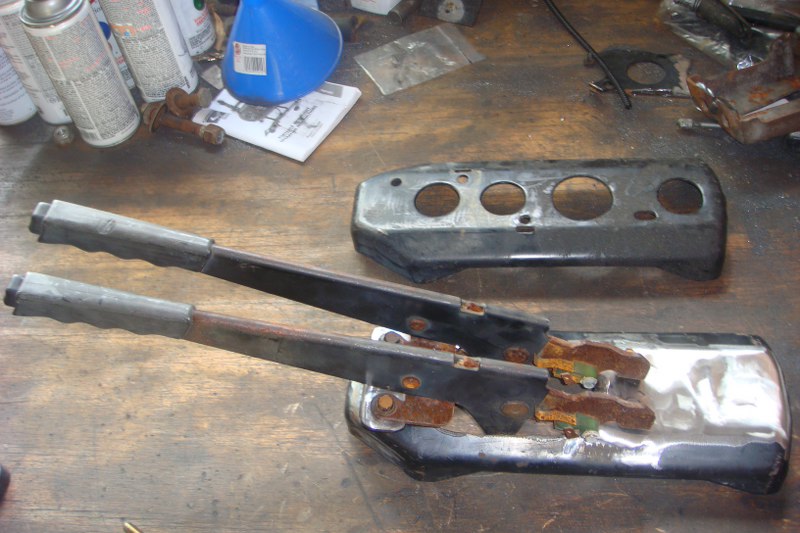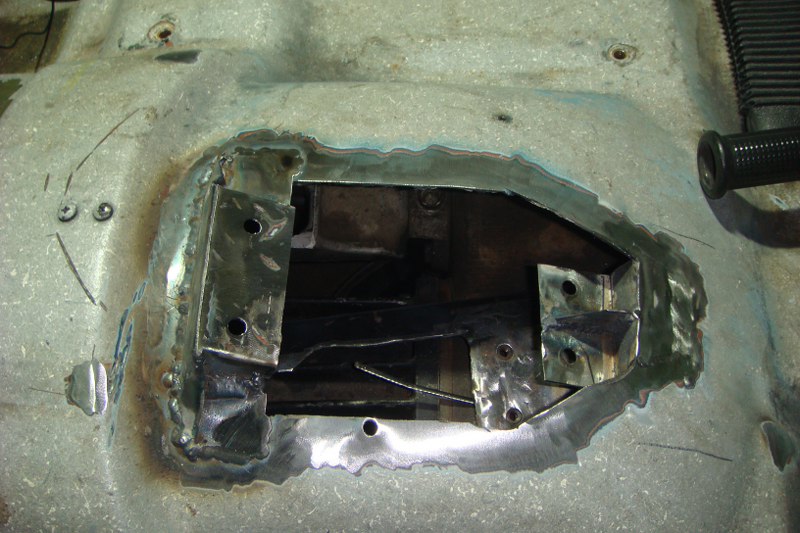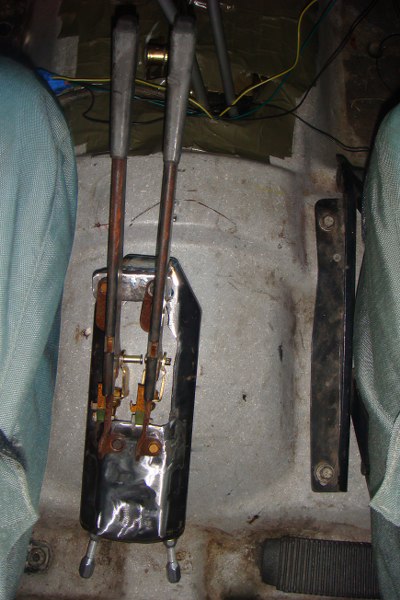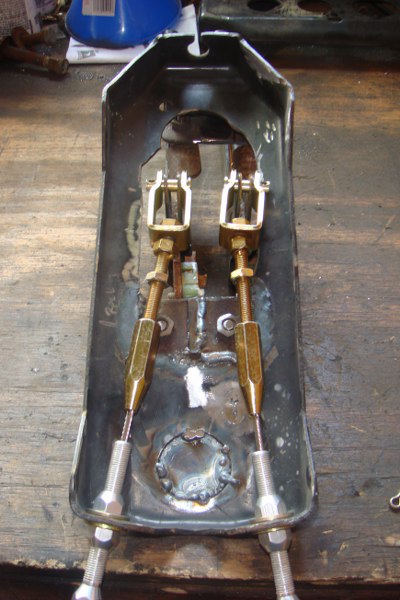 I originally tried to use these buckets but they're too small to accommodate the Lokar linkage, so I went with the big bracket version.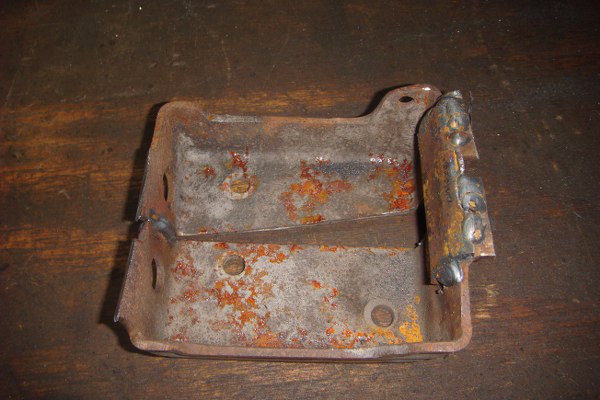 ---
Not affiliated with American Motors Corporation, Jeep® or Daimler-Chrysler. ©1999 OffRoad Vehicle Outfitters.